Sorry, there is a problem with this page. Please contact us for further support.
Site and Architectural Joinery Apprenticeship Level 3
Area
Subject
Construction
Campus
Cost
-
Select date to apply
Add to Shortlist
Apply Now
Course Overview
You need to be employed to start an Apprenticeship. Please visit our vacancy page or contact 01278 441234 if you have an employer. If you are unable to secure employment, you could enrol on a full-time study programme and transfer to an Apprenticeship at a later date. Please apply for a full-time course as your second option.
This day release course is ideal if you like working with timber, are passionate about wood occupations and wish to progress to an advanced craft level while still creating things with a hands-on approach.
The Apprenticeship will introduce you to being a safe worker and help you to make the most of this wonderful material. Further develop your hand and machine skills while developing your understanding, care and use of power tools. Learn advanced practical and theoretical aspects of the trade, gain additional qualifications and develop transferable skills.
Assessment Methods
Assessment is through online tests, written coursework, the creation of a portfolio, workplace assessments and periodic reviews both in College and your workplace.
Progression Options
On successful completion you could progress to a Degree Level Apprenticeship. As a fully qualified craftsperson, you could find employment in the construction industry, and many Apprentices are offered a full-time position with their employer.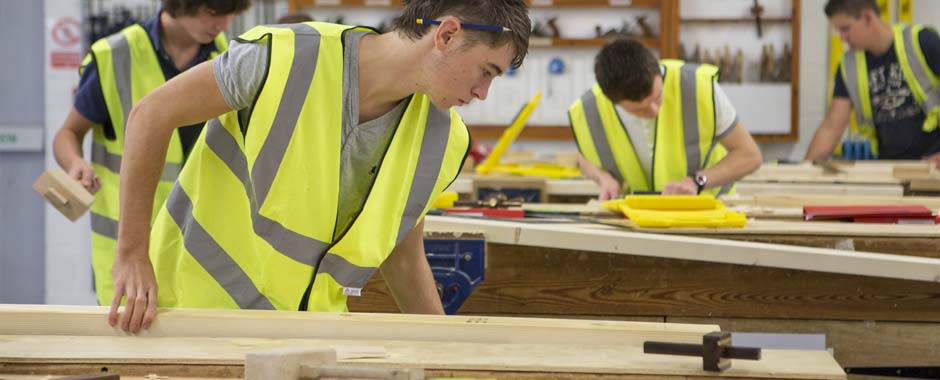 Spotlight
The teachers here are great they are so supportive and always trying to get the best out of your learning time in college. They always try to prepare us for the next step by pushing us to achieve our max potential.