At 22, Hannah Holleran is one of the youngest and most inspirational professional chefs to have returned to the Quantock Restaurant as one of its guest chefs. Hannah spent two years studying professional cookery at Bridgwater & Taunton College's Quantock Restaurant and an advanced apprenticeship with work placements at Heston Blumenthal's Hind's Head Restaurant in Bray and Roux at Parliament Square. So impressed were they that Hannah secured a full-time position, working under Head Chef Steve Groves, MasterChef and Professional Winner. In October 2017, Hannah moved to Helix which is based on the top floor of the Gherkin, London. Hannah has now decided to move her focus from London to Australia but couldn't resist the opportunity to return to the Quantock Restaurant to share her knowledge with this year's students.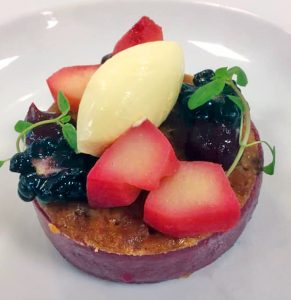 Hannah served an exquisite menu of cured monkfish, fennel, cobnut and crispy oyster for her starter. She followed this with glazed veal cheek, Jerusalem artichoke, cavolo nero and yeasted crumb and topped the whole event off with blackberry parfait, quince and clotted cream. Each course was accompanied by a wine flight specifically chosen to complement each dish.
Asked what being a guest chef means to her, Hannah said,
I hope that I have been able to inspire the students. Every chef works differently and students are able to see new techniques and use different ingredients. To see it all come to the pass, plated and ready to serve to the public gives them a huge sense of achievement and self-worth.
Rebecca Tomlinson, Course Leader of Hospitality and Catering at the College added,
We were delighted to welcome Hannah back to our newly refurbished Quantock Restaurant. She is so passionate about food and about encouraging others to work hard to be the best that they can be.
The Quantock Restaurant will host Barrie Tucker from Psalter's Restaurant at the Luttrell Arms in Dunster as their next guest chef in November.
To find out more about Hospitality and Catering courses available at the College go to www.btc.ac.uk and search for Quantock Restaurant.
To see our current menu click here.
To book a table at the Quantock Restaurant call 01823 366497 or email tomlinsonr@btc.ac.uk