On 9th December, Motofix donated a vehicle to Bridgwater & Taunton College (BTC) for training – marking an important landmark for Motofix in terms of training and development.
The vehicle is a two-year old Vauxhall Corsa with front end damage and has been donated alongside the parts required for repairs to take place. The vehicle has an interactive QR code for students to access video interviews with previous apprentices including one who recently completed a course at BTC.
Jason Kilduff, Assistant Principal in Construction, Automotive & Engineering at the College, says:
I'm really excited to be able to accept this very generous donation from Motofix, this will be of great benefit to our department and our apprentices will be able to learn using the latest practices on a modern vehicle. Having developed a very strong and collaborative relationship with Motofix over the last year, they introduced us to AutoRaise and the Accident Repair Technician Standard. Having run the individual disciplines of Body Repair, Vehicle Refinishing and Mechanical, Electrical Trim for many years, it became clear that this was no longer what the industry was looking for. This multi-skilled programme has given our Body and Paint offer a new lease of life and clearly what the industry needs, which has been reflected in our increasing demand for this provision.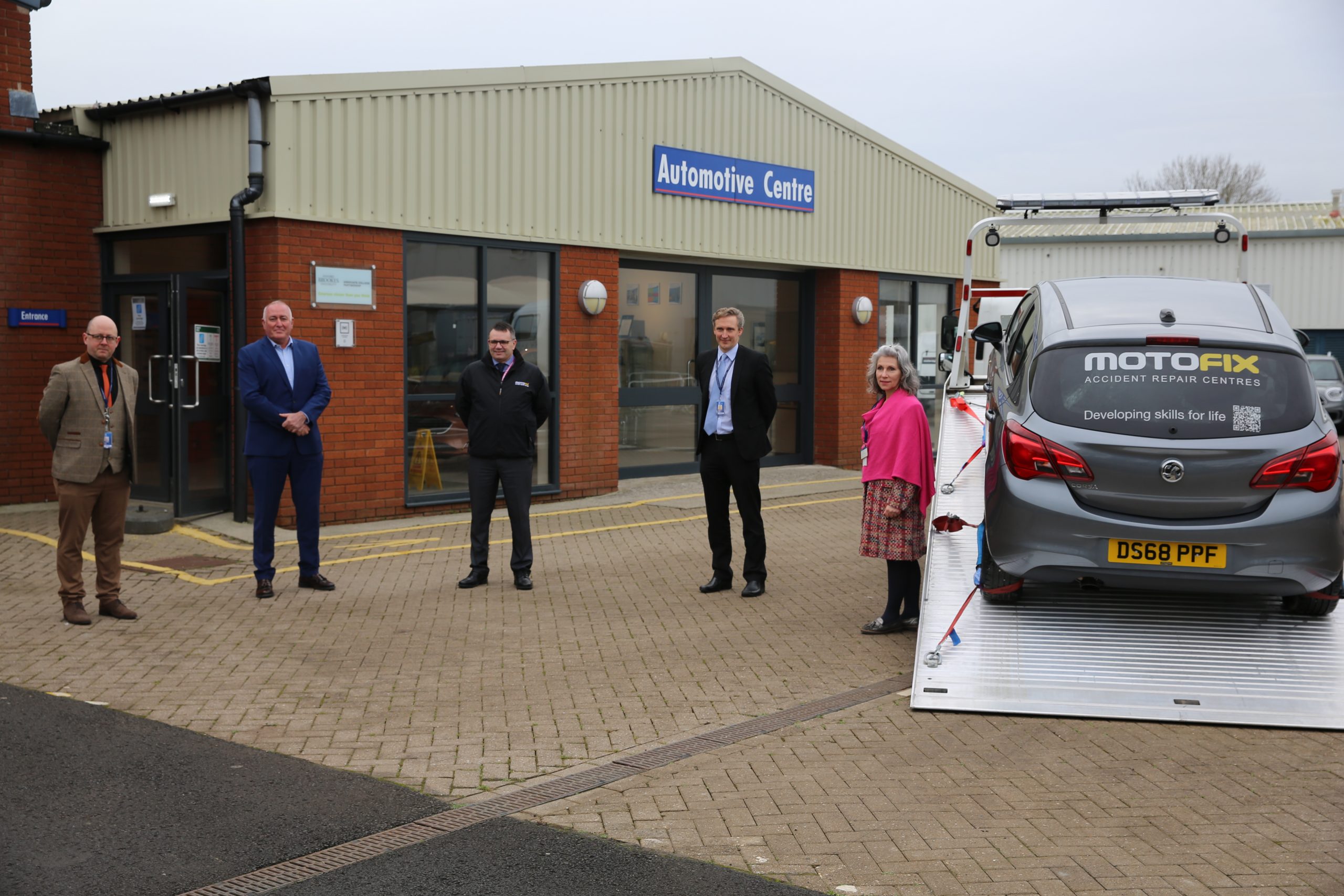 Driven by its CEO, Richard Tutt, Motofix has long wished to have a multi-skilled workforce and so has ensured that a supportive relationship has existed and been maintained with AutoRaise and the College.
AutoRaise source fantastic placement opportunities for apprentices studying at the College, and are also in discussions regarding provision of a pre-apprenticeship programme with BTC.
Bob Linwood, CEO of AutoRaise comments:
AutoRaise were delighted to be involved in this brilliant gesture from Motofix, one of our Affiliated Repairer Partners and it clearly demonstrates their commitment to their apprentices and the relationship with Bridgwater & Taunton College.

It's great to be involved with Richard, Chris and the wider Motofix team in creating opportunities for young people and we look forward to our continued partnership with them. Also, as the originators of the Accident Repair Technician Apprenticeship Standard and now being involved with BRIT, the trailblazer group who have taken responsibility for its ongoing development, it's great to see another training provider being able to offer this much coveted apprenticeship programme in our sector.
The Covid-19 pandemic presented particular challenges this year to this exciting apprenticeship programme, but strangely also some opportunities. Examples include where furloughed apprentices were re-assigned to the multi-skill apprenticeship on their return to work. The programme continues to be popular, with another six apprentices starting this month and five more apprentices, currently being recruited, joining the programme in the New Year.
Motofix are continuing to support AutoRaise in offering to interview and potentially place apprentices who were made redundant over the last 9 months, and the College is ready and pleased to start any apprentices recruited.
To find out more about accident repair apprenticeships at BTC, please click here.