Bridgwater & Taunton College is renowned for its innovative course creation and delivery, harnessing the latest technology to improve their provision of skills training, and the positive impact this has on learners and industry workforces.
As part of the College's Construction Live projects and their Steel Fixing and Formwork Apprenticeship programmes, which take place at their Construction Skills and Innovation Centre in Cannington, candidates from around the country are able to undertake projects and apprenticeship learning on the College's real-life construction site. Alongside this practical experience, they are taught site behaviours and standards and specific technical knowledge and skills.
However, there are practical elements which cannot be undertaken by candidates not qualified to do so, and so to enable them to learn the standards and expectations needed for a safe site, they will soon be able to immerse themselves in virtual reality site environments, using a VR app being developed and produced by Cardiff-based training technology company Immersity.
Working in teams on 'live' work-based projects, learners will assimilate and practise skills in complete safety, whilst also coming to understand the protocols and behaviours so important to construction site safety.
The apps being developed for this type of immersive learning are for Steel Fixing and Formwork apprentices, in readiness for the End Point Assessments, in order to measure development and impact.
The experiential learning elements to the app are for hazard and risk awareness, with a VR module for inductions which will be ready for September 2019.
These innovative methods of learning have been made possible by funding from CITB, who provide funding for specific projects relating to careers, innovation and training, and which Bridgwater & Taunton College, in close collaboration with Immersity, successfully bid for last year.
Andy Berry, Principal of Bridgwater & Taunton College (BTC) says:
New technology has an important role to play in training the workforce of tomorrow. Virtual reality enables students to experience and learn from a range of different scenarios, honing their skills and required behaviours in a safe environment.
Commenting on the partnership Hugh Sullivan, founder and CEO of Immersity said,
Immersity's leading-edge technology marks a significant innovation in the design and delivery of virtual reality training. And we are proud to be working with BTC on such an important pioneering project.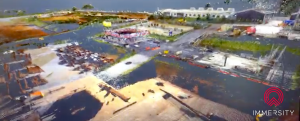 Photo: Still shot of scanned site to be used in VR training