On Thursday 9 May our Football Coaching students travelled to Bilbao, Spain for a week of coaching.
All the students planned and delivered coaching over the week with a local school's football teams. Each morning the students would travel to the school's training complex where they would prepare their sessions ready to coach in the afternoon/evening. The age groups ranged from U8's all the way to their U16's. The students also had the opportunity to take part in their U18's team training session that was delivered by their own coaches.
As well as coaching both students and staff got the chance to watch Athletic Bilbao play a La Liga fixture versus Celta Vigo at their impressive 55,000 seater stadium. The students and staff also had an exclusive tour of their training facilities and had the opportunity to get signatures from the both the men's and women's first team squad including a group picture and plenty of selfies.
A day was spent travelling to San Sebastian which allowed the students to spend some time on the beach playing games and also chance to explore the city.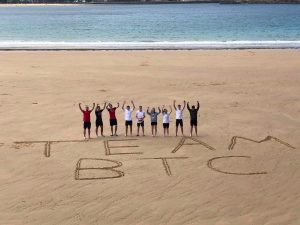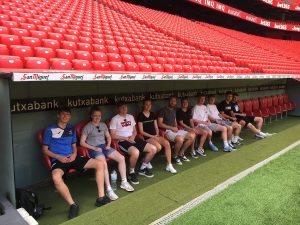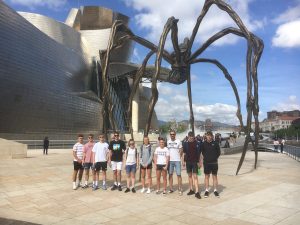 Chloe Pearce, Level 3 Football Coaching student, said,
"During the week in Bilbao we were able to coach different ages and abilities which gave us work experience. Coaching players who are of a different culture and philosophy to us was useful because it helped us to adapt our coaching style to accommodate them, this challenged us but overall has made us better coaches. Also having the language barrier challenged us because we had to find different ways to communicate with the players, for example using some Spanish, demonstrations and non-verbal communication.

On days where we weren't coaching we were able to relax and enjoy our time in Bilbao. We went to San Sebastián for a beach day, we had a stadium tour of San Mames, we watched Athletic Club men and women train and met the players afterwards and we also got to watch Athletic Club v Celta Vigo. Overall it was a brilliant experience and it was invaluable to all of us to help develop our coaching in the future."
Jamie Laird, Course Leader, said,
"This was the second time we have travelled to Bilbao after last year's successful trip. The students performed extremely well and had to overcome the language barrier whilst coaching, which was a fantastic experience for them. The students also had the chance to join in with the local U18s team which was another fantastic experience. Then to have the chance to watch a top Spanish team train is something that would be extremely hard to do here in England."
Find out more about Sports, Coaching and Exercise Health courses at BTC here.