Bridgwater & Taunton College were delighted to welcome Rebecca Pow, MP for Taunton Deane to our Taunton campus on Friday, despite everything going on in Westminster. During her visit, the Conservative MP for Taunton Deane, met with students from across the College including our International Baccalaureate students, who enjoyed a challenging Q&A session on matters such as Brexit, student funding, social mobility and transport within rural areas.
We had great pleasure in showing Ms Pow The Hair & Beauty Agency which is open to the public for a variety of treatments including, haircuts, barbering, colouring, perming, facials, manicures, pedicures eyebrow shaping and eyelash tinting, waxing, massage and electrical body-toning treatments. All treatments are performed to a high standard by trainees, under the supervision of experienced, qualified staff.

Next up was the University Centre Somerset (UCS) which forms part of Bridgwater & Taunton College. UCS is home to the UWE Level 5 Nursing Associate Apprentices, Natalie Carbery and Kyly Pearson seen here with Laira Pearson, Head of Health Care & Integrated Professions and Ms Pow. These Apprenticeships are run in collaboration with the University of the West of England (UWE) and the NHS and have only previously been available to those individuals employed within the NHS so this really is a transformational step forward.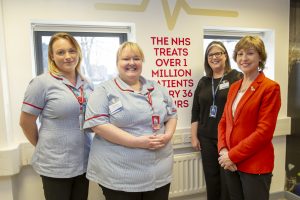 UWE Level 5 Nursing Associate Apprentices. Natalie Carbery and Kyly Pearson seen here with Laira Pearson, Head of Health Care & Integrated Professions and Ms Pow. Over in the Arts House Media Production, TV & Film and Music students discussed the skills required to record live performances streamed directly to YouTube and benefitted from Ms Pow's knowledge from her previous career in broadcast journalism.
Foundation Diploma Art and Design students were able to discuss their ambitions for University and the appealing nature of their offers and course content as they make their decisions. They discussed the impact of fast-fashion and how sustainability is at the heart of the art and design projects set. Students explained how industry briefs and traditional hand skills are promoted and enjoyed in Fashion and Textiles design particularly through our academy creative skills enrichment sessions. Media Make-Up students demonstrated ageing techniques for theatre and film and discussed the increasing opportunities for Media Make-Up Artists locally, nationally and globally. Staff discussed how students are involved in the Taunton Transformed initiative supporting the Garden Town status and the creative and cultural vision for the area. They also discussed Ms Pow's role on the Digital, Culture, Media and Sport Select Committee as well as her previous work done with environmental issues to focus ideas for future creative projects.
The tour culminated with a visit to The Quantock Restaurant where Hospitality & Catering students had just completed 65 covers for lunch in the newly refurbished restaurant.
Rebecca Pow said,
I was delighted to visit Bridgwater and Taunton College and was genuinely impressed with the diversity of courses on offer, particularly how many of them are being closely adjusted with the requirements of business so that their students will go into the world of work to make a real contribution. Well done to the College for their recently awarded and much-deserved centre of the year Lion Award, I was pleased to highlight this in the Chamber and to many of my colleagues, following the visit.