Over the Easter Bank Holiday weekend, staff and students from the Bridgwater & Taunton College Motorsport Team attended a race meeting at Donington Park in Leicestershire.
The start of the season has seen the appointment of a new Student Team Manager, James Wellens (Foundation Degree in Motorsport Engineering) and a completely new student race team consisting of Level 2, Level 3 and Degree students.  The team now competes in the 750MC RLM Racing Bikesports Championship, having previously competed in the BRSCC OSS Championship. Another first for the Bridgwater & Taunton Motorsport Team is running and supporting customer cars at race meetings.
Rounds 1 and 2 at Donington Park saw three cars being run and maintained by the team.  We had our own 'Poppet' Radical PR6 #11 – Driver Josh Smith (HE Motorsport Course Leader), 'White 1' Radical SR3 #15 – Driver Robert Rees (customer) and 'Honey Monster' Radical PR6 #73 – Driver Alastair Smart (customer).  The weekend consisted of testing on Easter Sunday and then qualifying and two races on Easter Monday.
At qualifying, the BTC Motorsport team car gained pole position, followed by a round 1 lap record smash and outright win, and another outright win in round 2. Josh said,
"We've had a great weekend, the students have worked well together in our first event whilst also running two customer cars, and our performance in the BTC car shows what we are capable of. We hope for more of the same at Silverstone in May."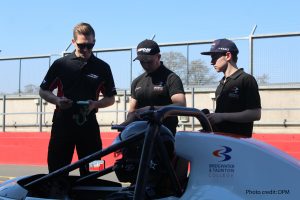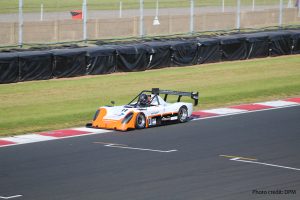 The 2019 season sees the continuing collaboration between Avon Tyres Motorsport and the BTC Motorsport Team in tyre development.  This has proven to be of real benefit to our students and the car.  It has been great for students to see this partnership and learn from development and testing of such a crucial component. Phil Carder from Avon Tyres Motorsport said,
"We couldn't have hoped for a better result from the weekend and the new tyres have proven to be fast. However, this couldn't have been achieved without the excellent work done by the students who have prepared a very quick car."
James, the Race Team Manager summed up the weekend by saying,
"Donington proved to be a brilliant opening event for the team. The students worked very well together and proved their capabilities. I am immensely proud of the team, as well as all three drivers for their performance in the season opener. After the results from round one we are all looking forward to the rest of the season."
For the team to race at such a competitive level comes at a cost and without our sponsors we just wouldn't be able to do it.  The Bridgwater & Taunton College Team would like to thank its sponsors; Spring, Oakmont Construction, Fuchs Silkolene, Avon Tyres, PFC Brakes and K&N Filters.
The team's next outing is at Silverstone this bank holiday weekend (Saturday 4 May 2019), spectators at the event would be very welcome. Alternatively, keep up with progress on the BTC Motorsport Facebook page.
Photo credit all images: Dan Perry